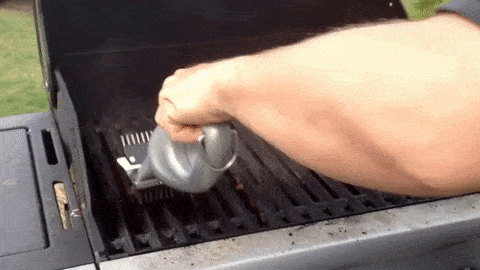 EASILY CLEAN UP GRILL GUNK: Use this Grill Steam Brush to quickly and easily sterilise your grill so you can cook better, healthier food. Without harming your grill grates, remove meat residue, charred chunks, and charcoal ash.
STEAM POWERED: Cleaning that is completely chemical-free and done with steam water is simple, and baked-on food and dirt are readily removed.
ERGONOMIC GRIP:The long, comfortable handle is easy to hold and keeps hands cool. It also has a handy hanging hook.
EASY TO WASH: Dishwasher Safe Strong, long-lasting stainless steel brush heads.
GREAT GIFT: A stainless steel BBQ cleaning brush is the ideal Father's Day present or gift for anyone who enjoys grilling outside.
INSTRUCTIONS:
Preheat the grill
Fill with water (water valve should be in the off position while filling)
Turn on the water valve and brush away caked on food residue and grease
FREQUENTLY ASKED QUESTIONS:
Does the brush clean stainless steel grill grates?
Yes, it will clean all types of grill grates effectively including stainless steel, enameled steel and cast iron.

What are the bristles made of?
Stainless steel bristles that will last a lifetime.

Will the stainless steel bristles loosen and come out on the grill?
Due to its unique design, the bristles will not come off even when hard scrubbing.

How do I wash the brush?
Rinse under hot water for a few minutes. For tougher gunk & grease, drizzle dishing washing liquid and rinse under hot water.

Is this safe to use when the grill is still hot?
Yes, it's easier to clean when the grill is hot.
SHIPPING INFORMATION
Domestic Shipping (UNITED STATES):
Your order will be packaged and shipped within 1-2 days of ordering. Tracking info will be emailed to you once the order has been shipped. Shipping will take 3-5 days. 
OUR GUARANTEE:
We believe our products can help people's everyday lives, and we fully stand by our products. We offer a risk-free 30-day guarantee on all our products. If you don't have a great experience, we will ensure you are satisfied with your purchase. We also offer a 1-year free breakdown warranty on our products.